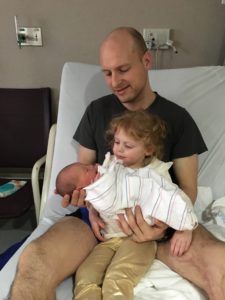 Big sister Lilah Marie meets little sister Everly Josephine for the first time.  Lilah loves her new baby sister.  Lilah held her, kissed her, stroked her head and even shared her bunnies with her!
Affirmations of Life: The Birth of my Two Daughters
By: Kevin R. Flike
There were many times in Afghanistan I thought I could die, but there were only two times I thought I was going to die for certain. The first time occurred two weeks before my team was supposed to head home from our first deployment to Afghanistan. The second time occurred when I was shot seven months into our second Afghanistan deployment. During each near death experience, I reflected on my life and what might have been. One thing that struck me particularly hard on both occasions was the realization that I would never have children. When I thought of this, my mind and body was awash with sadness.
For a long time I asked God why He let me survive only for me to suffer so much pain and anguish due to the injuries from my gunshot wound. One of the answers to this question came in the form of two little girls.  Lilah Marie was born on September 29, 2013, two years and four days after being shot (I was shot on September 25, 2011).  Everly Josephine was born February 20, 2016, four years and six days after my life changing experimental surgery at the Mayo Clinic (February 9-14, 2012). The fact that their births coincided with the anniversaries of two life-altering events has made the miracle of life even more precious for me.
When I thought I was experiencing my last moments on earth, I thought about what it would be like to be a father; it is even better than I imagined it to be. My daughters have shown me one of the reasons God allowed me to survive my injuries. Their entry into this world has been an affirmation of my life and its purpose.   So as a former college football player and former Green Beret, I am ready for dress up, princess dolls and tea parties. I even let Lilah paint my toenails the other day.
I never want to forget how I longed to have a family while I thought I was on my deathbed. This is something I have to remind myself when I get woken up multiple times in a night or when my two year decides to draw on the couch. Now that I am living my dream, I feel blessed, that is until the teenage years of course – check back with me then and find out how I am doing.
Learn more at:
stage.woundedbywar.com
Facebook: Wounded by War
Twitter: @woundedbywar
After graduating from Union College (BA), Kevin R. Flike served as a Special Forces Engineer assigned to the 1st Special Forces Group and deployed to the Philippines, Thailand and twice to Afghanistan. On September 25, 2011 during his second deployment to Afghanistan, he was shot in the lower abdomen and was medically retired due to his injuries. In the spring of 2016, Kevin completed dual masters degrees from the MIT Sloan School of Management (MBA) and the Harvard Kennedy School of Government (MPA). Kevin is currently employed within the financial industry in Boston, MA.