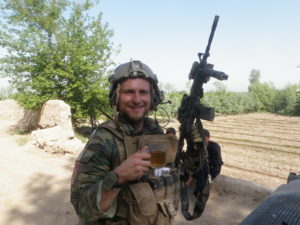 (Drinking tea from a local villager on my second deployment)
This is the fifth in a series about my trip to Afghanistan with Operation Proper Exit (Feherty's Troops First Foundation). Click these links to read #1 #2 #3  #4and #5
I kept asking myself, "why are you going on this trip and what do you expect to get out of it?" as our C-17 rumbled from Kuwait to Afghanistan. The resounding answer I gave myself was that I desired to make peace with my past and move on before the Afghanistan chapter became my entire life story. I was unsure of how or when it would come to me, but I knew at some point the closure I so desperately sought would be found.
At first I wondered why our schedule was packed with so many activities. Our time was accounted for from the moment we woke up until we went to bed almost 18 hours later. However, I quickly understood the reasoning behind our busy days. Besides boosting the morale of the troops on the ground, the trip was designed to offer a multitude of events to help each man find their desired outcome. I realized that closure is not one size fits all, each man would need something different to elicit this emotion.
One participant was able to connect with a nurse that helped operate on him five years ago.