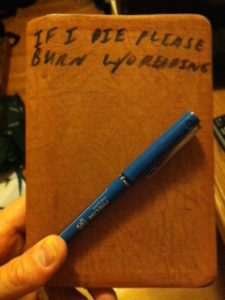 If I Die Please Burn Without Reading
A Green Beret's Journey to Physical, Mental and Emotional Healing
(I wrote, "If I die please burn without reading" on the cover of my journal in Afghanistan. At the time, I did not want anyone to read the journal, which served as an emotional outlet for me.)
Book Overview:
On September 25, 2011, during a ten-hour firefight in northwest Afghanistan, I suffered a gun-shot wound to my lower abdomen. I sustained a fractured hip, lost 20% of my colon and suffered a damaged femoral nerve resulting in permanent disability. My injuries required six surgeries that have left me with over 40 inches of scars.
I spent 4-6 hours a day doing physical therapy for a year and half and re-learned how to do simple tasks such as walking up stairs. I spent painful sleepless nights on my couch wondering if I would ever return to a normal life. At many points the situation seemed bleak but no matter what, I never lost hope.
To keep up my spirits and push through the toughest and darkest days of my life, I drew inspiration from life lessons I had learned from Special Forces training, previous deployments and other wounded soldiers. To inspire others and assist in my journey to physical, mental and emotional healing, I began writing a blog (www.woundedbywar.com, Facebook Page) in the spring of 2013. I candidly recounted my experiences and lessons learned from my time in the military, from being wounded and from my on-going recovery process. Exposing my foibles, emotions, and feelings to the world was incredibly difficult. There were many times I wanted to stop. But the outpouring of support kept me writing. Soldiers told me they used my articles to express and explain their combat experiences to friends and family. Men and women who suffered various forms of trauma said they drew inspiration from my story because they could relate to the physical and emotional pain caused by my injuries. Even every-day people reached out to me to tell me how engrossed and inspired they were by my story.
During my recovery, I learned new life lessons and re-kindled my relationship with my wife. I was taught the virtues of humility and empathy through experiencing the pangs of addiction, the helplessness of having to rely on others, the numbness of posttraumatic stress and the despair of living with chronic pain. I am currently finishing up dual master's degrees from the MIT Sloan School of Management (MBA) and the Harvard Kennedy School of Government (MPA) with an expected graduation date of June 2016. My wife and I have two beautiful daughters.
For a long time I wondered why God let me survive only to have me suffer so much pain and anguish. I now understand why: it is my responsibility to candidly re-tell my story and pass on the lessons I learned. What started out as a small project aimed at helping wounded soldiers has turned into something much bigger. The Wounded by War Facebook Page has almost 5,000 followers and I am regularly asked by organizations to speak about my experiences and lessons learned at various events.
My book will detail the experiences, emotions and lessons learned from my time in the military, from being wounded and from my recovery process. Its goal is to provide inspiration to not only my fellow wounded veterans, but to anyone who has faced physical, mental, or emotional adversity. My message: that no matter how dark the journey may be, you just have to keep going and never give up.
I have written over 75,000 words (17 out 22 chapters) of a first draft.
The book is divided into five sections:
Take the Hard Road, it's Worth it
Things Happen for a Reason
Live Your Life Like You are Going to Die Tomorrow
Don't Feel Sorry For Yourself
Never Give Up
If you are interested in publishing the book or have any questions please contact me.