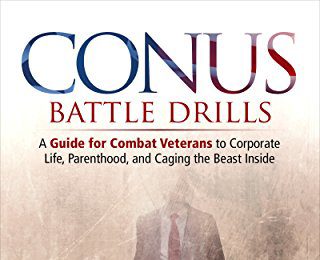 Every year more than 200,000 US service members leave the military and begin the process of transitioning to the civilian world. No matter how much you loved your time in service, the initial rush of freedom is electrifying. No more long training days, combat deployments and dress right dress. The future is bright and the opportunities are endless. As you run through all of your options, anxiety sets in because you realize that you are heading into un-charted territory without a map or a compass. That's where Louis Fernandez and his book Conus Battle Drills comes into play.
After deploying to Afghanistan as an infantry officer and Iraq as an intelligence officer, Louis made the difficult decision to leave the Army. Like myself, at times Louis struggled with his transition. He had difficulty integrating back into society and adjusting to a new work environment.  He missed the camaraderie and purpose the military gave him. He made mistakes and learned valuable lessons along the way. For the benefit of every transitioning veteran, he recorded his journey in Conus Battle Drills: A Guide for Combat Veterans to Corporate Life, Parenthood, and Caging the Beast Inside.
Throughout the book, Louis effortlessly transitions back and forth from his time in Afghanistan and Iraq to the present day. He uses his military experiences to frame the lessons he learned during his transition. In addition to these illustrations, Louis also provides a workbook and exercises to help you create a personal roadmap for your transition. From personal finances to interview questions, Louis covers all aspects of the transition without sounding preachy.
As I readied myself to medically retire from the military, those who had gone before me warned me of the rocky road that lay ahead. However, I could not fully grasp the difficulty of the transition until I was in the throes of it. Three and half years after medically retiring, I would label my transition a success, however, it could have been much easier if I had Louis' book. To every veteran getting ready to leave active duty and to those who have already left, I would highly recommend that you read Conus Battle Drills.
You can learn more about Louis Fernandez and Conus Battle Drills at http://www.conusbattledrills.com on Facebook: CONUS Battle Drills and Twitter: @conusbattle