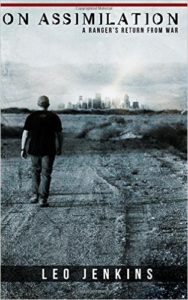 Praise for On Assimilation (A book by Leo Jenkins)
By: Kevin R. Flike
After reading a few pages of Leo Jenkin's On Assimilation I realized that we have a lot in common. We were both in the US Army Special Operations, spent time in lovely Kunduz, AFG, share an undying love for Jameson Irish Whiskey and both still had (still having) a difficult time transitioning from the military to the civilian world. I voraciously read my copy in two days while I highlighted shared experiences and filled the margins with copious amounts of notes. In a very direct and blunt manner, Leo illuminated thoughts and emotions I have been dealing with since I separated from the military almost three years ago.
The struggle to transition is real and the consequences of a failed transition are grave. In a society where fewer and fewer citizens serve in the military, veterans increasingly feel disconnected from the society for which they fought and bled. Twenty-two veterans a day are taking their own lives and thousands of veterans will roam the streets tonight instead of returning to the confines of a warm house. If the military civilian divide is to be bridged, our society needs to gain a greater knowledge of the sacrifice veterans make while they are deployed and the struggles they face during the transition back to civilian life.
Leo's story is the same as so many other veterans; however, he is one of the few to courageously and transparently tell it. Leo is a patriot who has volunteered numerous times in his life to put himself in harm's way for the greater good. He first volunteered to be a fire fighter as a teenager, then he volunteered to fight in the Global War on Terror as a Ranger Medic, now he has volunteered to bare his soul and show the world his scars with On Assimilation. Civilians owe it to Leo, and all other veterans, to read this book so as a society we can begin to close the massive chasm between military and civilian societies. Veterans need to read this book to help verbalize what they are going through and/or help other vets who are struggling through their transition.
Learn more at:
stage.woundedbywar.com
Facebook: Wounded by War
Twitter: @woundedbywar
After graduating from Union College (BA), Kevin R. Flike served as a Special Forces Engineer assigned to the 1st Special Forces Group and deployed to the Philippines, Thailand and twice to Afghanistan. On September 25, 2011 during his second deployment to Afghanistan, he was shot in the lower abdomen and was medically retired due to his injuries. In the spring of 2016, Kevin completed dual masters degrees from the MIT Sloan School of Management (MBA) and the Harvard Kennedy School of Government (MPA). Kevin is currently employed within the financial industry in Boston, MA.