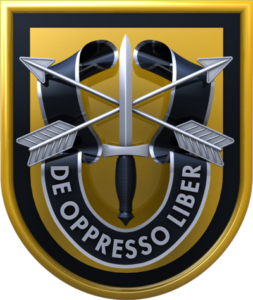 The Epitome of a Leader: Colonel (R) Richard Thomas
By: Kevin R. Flike
Former 1st Special Forces Group Commander Colonel (R) Richard Thomas is running for office in the state of Washington.  If I was still a WA resident, he would have my vote and this is why…
In the spring of 2012 I was a shell of the man I used to be. After six surgeries and thousands of hours of physical therapy I was not progressing as fast as I thought I would. I became bitter and cynical as I slowly realized that I was a different man. I had defined myself by my physical prowess, and now I could barely put my own clothes on. I knew my injuries would prevent me from continuing my service in the 1st Special Forces Group, so I started thinking of what I should do when my medical retirement was finally processed. I wanted to do something big, something that told people I was better than ever.   Mostly, I wanted people to stop feeling sorry for me. I decided I would apply to graduate schools like Harvard and MIT. A lot of people laughed at me when I told them this, however, everyone who knew me understood that I was serious – I just needed a little help.
One of my mentors, Master Sergeant Tom Williams put me in contact with Colonel (R) Richard Thomas after I told him my plans. I was astonished when Colonel (R) Thomas reached out to me, a staff sergeant, to set up a lunch meeting. Before our meeting, I asked around the 1st Special Force Group about Colonel (R) Thomas and everyone said the same thing, "Best Colonel I ever worked for, incredible leader and man." One of my dearest friends in the 1st Special Forces Group told me to, "listen to every word he has to say."
I showed up to our meeting unkempt and disheveled, the telltale signs of a man who was un-raveling. However, Colonel (R) Thomas listened intently as I told him about the day I was shot, the surgeries, physical therapy and my new plans. He was the highest-ranking officer I had ever spoken with and he never interrupted me once. After he listened to every word I had to say, I was given sage advice gained from a prestigious 30-year military career. He asked me tough questions, respectfully poked holes in my plan, never showed any signs of pity for me and encouraged me to pursue my dreams of graduate school.
This was not the last time Colonel (R) Thomas and I met. Despite his busy schedule, he made a point to check in with me and meet face to face over numerous lunches. He made introductions and critiqued essays and resumes for me. When I received multiple rejection letters and was placed on waitlists, he encouraged me to push forward.
This man epitomizes leadership and embodies the principle of selfless sacrifice. Colonel (R) Thomas saw a soldier who was veering off course and he took the time and expended the energy to help him get his life back in order. Since Colonel (R) Thomas and I first met, my wife and I have gone on to have two beautiful daughters and I will graduate with dual master's degrees from the MIT Sloan School of Management (MBA) and the Harvard Kennedy School of Government (MPA) this spring. There are many people that helped me get to this point, and Colonel (R) Thomas is definitely one of them.  To learn more about Colonel (R) Richard Thomas and his campaign, please check out his website
Learn more at:
stage.woundedbywar.com
Facebook: Wounded by War
Twitter: @woundedbywar
After graduating from Union College (BA), Kevin R. Flike served as a Special Forces Engineer assigned to the 1st Special Forces Group and deployed to the Philippines, Thailand and twice to Afghanistan. On September 25, 2011 during his second deployment to Afghanistan, he was shot in the lower abdomen and was medically retired due to his injuries. In the spring of 2016, Kevin completed dual masters degrees from the MIT Sloan School of Management (MBA) and the Harvard Kennedy School of Government (MPA). Kevin is currently employed within the financial industry in Boston, MA.