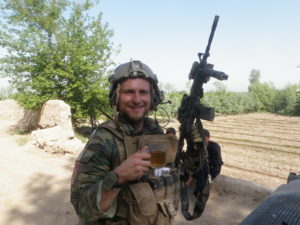 (Drinking tea from a local villager on my second deployment)
This is the fifth in a series about my trip to Afghanistan with Operation Proper Exit (Feherty's Troops First Foundation). Click these links to read #1 #2 #3  #4and #5
I kept asking myself, "why are you going on this trip and what do you expect to get out of it?" as our C-17 rumbled from Kuwait to Afghanistan. The resounding answer I gave myself was that I desired to make peace with my past and move on before the Afghanistan chapter became my entire life story. I was unsure of how or when it would come to me, but I knew at some point the closure I so desperately sought would be found.
At first I wondered why our schedule was packed with so many activities. Our time was accounted for from the moment we woke up until we went to bed almost 18 hours later. However, I quickly understood the reasoning behind our busy days. Besides boosting the morale of the troops on the ground, the trip was designed to offer a multitude of events to help each man find their desired outcome. I realized that closure is not one size fits all, each man would need something different to elicit this emotion.
One participant was able to connect with a nurse that helped operate on him five years ago. With tears in his eyes he told us it was the first time he cried in years. Another saw his hospital bed in Bagram and spoke with a nurse that helped his interpreter after being wounded. A smile adorned his face for the remainder of the trip. Making airplane bombs in Kandahar allowed one man to show the Taliban that that he was still in the fight. For another man, it took a sit down with US Ambassador to Afghanistan, Hugo Llorens to find his closure. After six deployments to AFG, this soldier wanted to know that he had made a difference. My moment came during our visit to Kandahar.
Both of my deployments were to Northern AFG, so this was my first time in Kandahar. During the flight, I observed the stark differences in terrain and thought about the events and town halls that awaited us. After building bombs, seeing the AFG air wing and talking to the troops we ended the day at the Special Forces compound. Luckily for me, it was my old unit, the 1st Special Forces Group. I had dinner with a Special Forces team and hung on every one of their words and for the remainder of the meal, I felt like I was back on a team again. Even though six years had elapsed, it felt like I had been one of them just yesterday.
After dinner we were given flags and coins in front of everyone. It was not planned, but in the moment I felt compelled to say a few words. With tears in my eyes, I told the guys how much my time in the 1st Special Forces Group meant to me. I let them know that there is not an hour in the day that goes by that I don't think about them and the sacrifices they are making. I also let them know how guilty I felt that I could not be by their sides. Even though my injuries prevent me from ever serving on a team again, I have long felt guilty that I could no longer be in the fight.
I had never admitted this feeling of guilt so publicly and after my impromptu speech, it felt like a 1,000 pound weight had been lifted off my shoulders. That night when we returned to Bagram, I called my wife and said, "This is what closure feels like, six years later I finally have it."