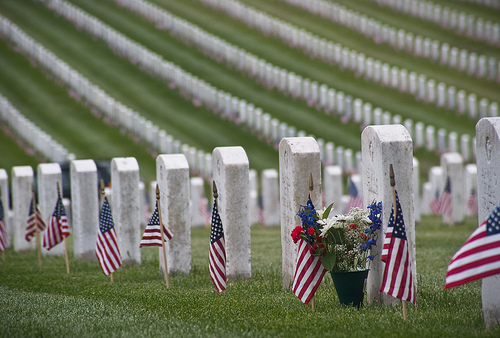 (This article was originally posted on Memorial Day 2015)
"Only the dead have seen the end of war." Plato 
Prior to my first deployment to Afghanistan I had the unsavory task of putting together my "death packet." This packet outlines in detail your wishes in the unfortunate event that you die on the upcoming deployment. If you are married, your wife is required to sign off on your choices. Instead of planning for our future life together, my wife and I were planning for life without me. My choices were met with resistance.
As a twenty-five year old newly minted Green Beret I made a big joke out of this very serious exercise; making outlandish requests in my packet. I wanted to be buried naked because I came into this earth naked and naked I wanted to go out. I wanted an open bar at my wake and a huge banner that said "this is a celebration bitches." I wanted upbeat Southern Rock playing during the wake. Also, no one was allowed to wear black, mourn or cry at my funeral.
I made a serious mistake of thinking this event was about me. Luckily my wife and a few veteran Green Berets put me in my place. It was not about me, but all the friends, family and teammates that I would leave behind. It would be a chance for them to honor me, begin coping with the loss and move on with their lives as best they could. After hearing this I changed my requests. Fortunately my "death packet" never had to be used, however it helped shape my views on things like Memorial Day.
Soldiers, Sailors, Airmen and Marines have become increasingly frustrated with how Americans treat Memorial Day. Besides the fact that many people view it only as a long weekend for barbecues and vacations, many view it as a time to thank military members for their service. The latter upsets service members because Memorial Day is a day to remember the fallen while Veterans Day is a day to remember veteran's service. Many veterans think that our society is doing a dis-service to the fallen by "confusing" the two.
After the experience of filling out my "death packet" I understand that Memorial Day is not just about the fallen. Memorial Day is also about the people the fallen leave behind. We should treat Memorial Day not only as a chance to honor those who have given their lives for our country, but also as an opportunity to recognize the huge sacrifice that grieving families, friends and teammates have had to make in the absence of their loved ones. We should honor Ben and Jeremy Wise for paying the ultimate sacrifice to our country and honor the Wise family who has lost two children to the war in Afghanistan. We should honor Wyatt Goldsmith but also remember that the Goldsmith family lost their only son. And of course we should honor the teammates of these great men because when you lose one of your brothers-in-arms not a day goes by that you do not think about them and the fact that you got to live and they did not.
Veterans, do not get upset this Memorial Day if someone thanks you for your service because this day is also about you and the loved ones our fallen comrades have left behind. When someone thanks you for your service this weekend politely thank them and tell them your favorite story about a friend who has been taken to early. If anyone thanks me for my service this weekend I will be honored to tell them stories about Ben and Jeremy Wise, Wyatt Goldsmith and the sacrifice their friends, family and teammates have endured in their absence.