Who Dares Wins: The Story of My Experimental Surgery At the Mayo Clinic
By: Kevin R. Flike
The tension was palpable as the neuro-surgeon inquisitively stared at my MRI. After a few minutes he broke the deafening silence and told my wife, physical therapist and I there was so much damage he could barely read the MRI. I felt like I had been punched in the gut. With little bedside manner, he went on to explain that there was nothing he could do for me. It took every ounce of energy and concentration for me to not break down sobbing on the floor. I instantly thought I would never run or hike again, and that I would never be able to chase my future children around the yard. As the appointment ended he half jokingly, half serious told us that maybe the Mayo Clinic could help.
Four months earlier, I had been shot in my lower abdomen during a combat mission in Afghanistan.   The bullet hit my femoral nerve, travelled through my hip and became lodged in my left buttocks (cue Forest Gump and Buns of Steel jokes – I have heard these hundreds of times). My stomach had been cut open from the bottom of my sternum to just below my belly button, 20% of my colon had been removed and my hip was fractured. My left leg was paralyzed due to the femoral nerve damage.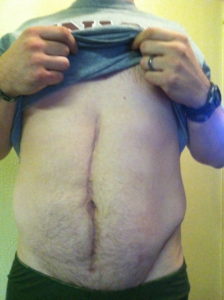 The femoral nerve allows your quadriceps to function and gives you the ability to extend your leg. No matter how hard I tried, or how much physical therapy I did, my nerve would not function. Every morning I woke up and said, "this is the morning my leg will work," only to have it dangle off the side of bed as I tried in vain to extend it. My quadriceps muscle began to waste away; my leg atrophied to the point that it was only slightly bigger than my arm.
I left the appointment dejected and did not even give the Mayo Clinic a second thought; I thought my situation was permanent. However, my physical therapist and number one advocate, Anja Rapp, was still hopeful. While I felt bad for myself, she took action and a few days after our failed appointment, Anja had already contacted the Mayo Clinic, gave them all of my paperwork and got them to take my case. We knew that if there was any place that could help, it was the Mayo Clinic.
After delivering two eulogies for my fallen teammate SFC Benjamin Wise, I flew to the Mayo Clinic in Rochester Minnesota for my initial consult. Ben's death illuminated how lucky I was to be alive and I cherished the opportunity to be seen at this world-class medical institution. The hospital ran like a well oiled machine; it was the first time in my life that I was seen on time for my medical appointments. I was shuttled from one office to the next for consults and testing until I had I one final meeting with Dr. James Spinner, the head neurologist.
Almost as soon as we started the appointment he told me that I would be a great candidate for an experimental surgery to repair my damaged femoral nerve.  He stressed how experimental the surgery was; there was no way he could give me any indication of when I might see results. There was also the possibility that it might not work at all. I knew that if I did not do it, I would always wonder what might have been. I also thought that even if the surgery did not work for me, my case might benefit someone else in the future. I decided that I had nothing to lose and said yes.
I had already undergone five surgeries and endured so much pain; the last thing I wanted to do was to have another extensive surgery. Dr. Spinner and Dr. Zeitlow (trauma surgeon) were going to cut my abdomen open again, this time on the left side, and remove the damaged portion of my femoral nerve. Then they were going to cut from the bottom of my ankle, ¾ of the way up my inner thigh and remove the sensory nerve from my left leg. They would then take the sensory nerve and graft it into my femoral nerve in hopes that I would once again gain connectivity.
The thought of how much pain my body was going to be in made me tremble. I was exhausted thinking of the physical therapy Anja would make me do. Having to take pain medication again made me scared; I had to fight hard to get off my medication after my initial injuries. My body quivered as I thought of all the possibilities. I wanted to pull out of the surgery, but I knew I would regret it if I did.
When I heard my name called I took a deep breath, stood up and listened to my leg brace squeak as I walked toward the nurse. She handed me my gown and showed me where I could change. My hands trembled as I put on my gown and started praying. I took another deep breath, kissed my KIA memorial bracelets to my fallen comrades SFC Wyatt Goldsmith and SFC Benjamin Wise and reminded myself how lucky I was to be in this position. I opened the door and told them I was ready; there was no going back now.
As the attendants wheeled me down the hallway to the operating room, I felt like I was on the back of a Chinook Helicopter just minutes before landing on a target. I felt the familiar feelings of fear, excitement and nervousness building up in my stomach. Once again, I was going into a situation in which the outcome was known only to God. When I entered the surgery room, I had flashbacks to the field hospital in northwestern Afghanistan where I was operated on only an hour after being shot. The atmosphere was much less frenetic, but still evoked terrible memories that were quickly put to rest as they administered my anesthesia. I woke up to the worst pain I had ever felt in my life. It was worse than getting shot and all of my previous surgeries.
Dr. Spinner visited me and said the surgery had went great; however, he reiterated that only time would tell if the surgery was truly successful. Nerve re-growth happens at a rate of almost 1 inch a month, so I had a long time before the repaired nerve would travel from my stomach to my quadriceps. That was, of course, if the surgery was even successful.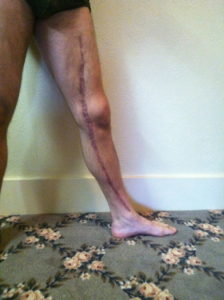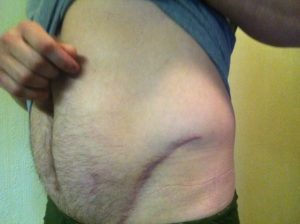 Months on end passed without seeing any results and I started to think the surgery was un-successful. Always the eternal optimist, Anja encouraged me to not give up hope. The strength coaches, Jared Aurich, Rob Hartman and Hunter Shcurrer came up with creative ways to optimize my conditioning and made sure I was challenged every day. Anja, Jared, Rob and Hunter tirelessly worked towards making me better, and almost six months after the surgery I noticed a twinge in my quadriceps muscle. In my previous life I had measured physical success by 300-pound bench presses and five-minute miles; now it was measured by muscle twitches.
While it was not much, that little muscle twitch was just what I needed to keep my spirits up and push myself forward. The twinge progressed into barely being able to move my leg. The slight movement turned into a few inches of movement and a few inches turned into full leg extension, which turned into running a 5K twice a week and chasing my daughter around night and day.
Today marks four years since I had that life changing surgery at the Mayo Clinic. I will never be able to thank Dr. Spinner, Dr Zeitlow and the Mayo Clinic staff for what they did for my family and I. When no one else would take my case, they stood there ready and willing to help out. I will also never be able to thank Anja for putting up with me and giving me hope when I was hopeless. Her devotion to making sure I had the best care and treatment was remarkable. There were many days that I cursed Jared, Rob and Hunter for the intensity of their training programs but these men pushed me to my absolute limits and I am incredibly thankful for them. Without the guidance and friendship of Anja, Jared, Rob and Hunter the surgery would have been for naught. Thank you to everyone who has played a role in my success, I could not have done it without your support and encouragement.
Learn more at:
stage.woundedbywar.com
Facebook: Wounded by War
Twitter: @woundedbywar
After graduating from Union College (BA), Kevin R. Flike served as a Special Forces Engineer assigned to the 1st Special Forces Group and deployed to the Philippines, Thailand and twice to Afghanistan. On September 25, 2011 during his second deployment to Afghanistan, he was shot in the lower abdomen and was medically retired due to his injuries. In the spring of 2016, Kevin completed dual masters degrees from the MIT Sloan School of Management (MBA) and the Harvard Kennedy School of Government (MPA). Kevin is currently employed within the financial industry in Boston, MA.