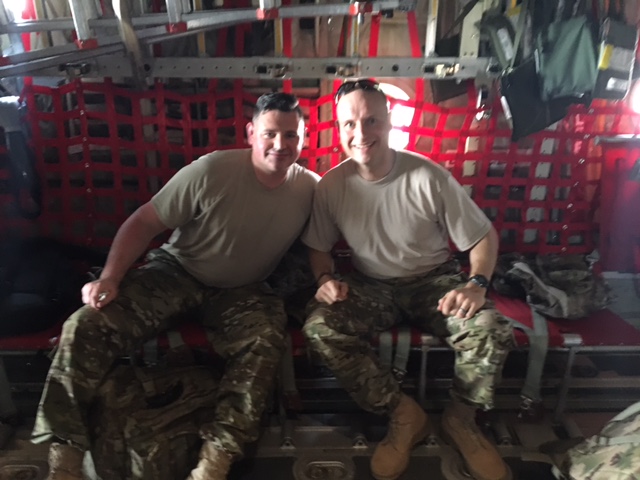 (On the left is SSG (R) Daniel Burgess and myself on the right.  We are in a C-17 waiting on the tarmac in Kuwait while the flight crew prepares for our flight to Bagram, Afghanistan.)
This is the second in a series about my trip to Afghanistan with Operation Proper Exit (Feherty's Troops First Foundation).  To read the first post click here.
Kuwait was surreal. The last time I was in Camp Arifjan, Kuwait it was almost six years ago while I travelled through for my mid-tour leave. As soon as we arrived, we ate midnight chow in the same place I had eaten six years ago. When I sat my tray down on the table and looked around, it felt like I had been there just yesterday. The next day we woke up early, had chow and proceeded to do interviews and pictures. After lunch we did a town hall for over three hours with almost 1,000 soldiers. Each one of us had the opportunity to tell the crowd our stories and the lessons we learned. This is a brief summary of each man's story.
US Navy CPT(R) Tom Feeks spoke a little about his experience in the Navy, but focused mainly on his son. Patrick Feeks was a Navy SEAL and was killed-in-action on August 12, 2012 northwest of Kandahar. CPT Feeks was the first Gold-Star parent to take part in Operation Proper Exit. Having the ability to walk the land that his son walked and see the country he died in would be a sense of closure for CPT Feeks. Currently, CPT Feeks is a professor at the Naval Academy.
MSG (R) Leory Petry (2nd Ranger Battalion) talked about the day he was wounded in Kunar Province in 2008. During a daytime raid, he was shot through the legs but continued to fight and lead his men. After being shot, a grenade landed near himself and his men. Without hesitation and with complete disregard for his own safety, MSG Petry picked up the grenade and attempted to throw it back, however, it exploded before it left his hand. MSG Petry lost his right arm and was awarded the Medal of Honor for his actions. MSG Petry has dedicated his life to supporting veterans and active duty service members.
SFC (R) Joe Healey (3rd Special Forces Group) talked about a helicopter crash he was apart of in 2005. When his UH-60 Blackhawk helicopter crashed on landing, he was thrown from the helicopter and the helicopter came to rest on his helmet with his head in it. Miraculously he survived, however he has suffered numerous lasting side effects from this incident and the six total deployments he has done to Afghanistan. SFC Healey is currently a care representative for the Special Operations Command Care Coalition. He will begin physician's assistant school in January.
SSG (R)Daniel Burgess (PSYOPS), spoke about the day he stepped on a landmine in Helmand Province. He lost his right leg and after a lengthy limb salvage process was able to keep his left leg. Since he was wounded, SSG Burgess has taken up quilting and has won numerous prizes for his work. He donates the majority of his work to veteran organizations. Throughout the trip, his quilting was a source of numerous laughs.
SSG (R) Seth Stout, (Infantryman, 10th Mountain Division) experienced his first TBI from a roadside bomb in Iraq in 2006. At this time not much was known about the effects of blasts, however, when this happened again to him in 2009, the military was fully aware of its effects. After experiencing another blast and being knocked unconscious in Ghazni Province, AFG, SSG Stout began experiencing serious side effects from the blast and was medevac'd out of country. He currently works at a large financial institution.
CPL (R) Branden Rumbaugh (Mortarman, USMC) lost both his legs in Helmand Province when he stepped on a landmine. Despite this, he is the most upbeat person I have ever met. He is a motivational speaker and fitness model. This fall he is attempting to break the record for the 130 LB weight class for the bench press. His goal is 400 LB!
I told the story of the day that I was wounded (gun shot wound to the lower abdomen, 20% of colon removed, fractured hip, damaged femoral nerve, six surgeries, over 40 inches of scars) and the struggles I faced during the recovery (depression, addiction, anger, despair, PTS). However, I also let them how great my life is right now and that no matter how difficult things become in your life, there is always a light at the end of the tunnel and it burns brighter than you can imagine. I also made sure everyone knew how supportive my wife, family, friends and teammates were during this process.
After the introductions, we opened it up for questions. As the questions rolled in, each of us chimed in. Once there were no more questions, we stayed for an hour to shake hands, take pictures and speak one on one with the soldiers. Once the final soldier left, I had an epiphany; this trip was not about me. Since the day I found out that I was selected for the trip, I thought it was about my healing process. After the town-hall (the first of many for the trip), I realized the trip was more for the morale and welfare of the soldiers still in the fight. It was our job to tell them our stories, talk about the struggles we faced and how we overcame them. This trip was about inspiring others to be the best version of themselves and show the power of the human spirit. I realized that by making this trip about others rather than myself, I would finally find the closure I had spent the last six years searching for.