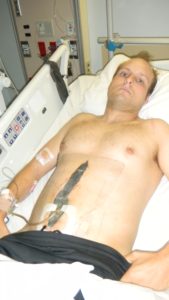 A lot of people have asked me how I was able to get into MIT and Harvard, to be quite honest with you I am dumfounded and ask myself the same question.  I did not have the grades or the test scores, but I knew if I told my story just right, I might have a shot.  The following is one of my essays for MIT Sloan (27 December 2012).  The essay prompt really played into my favor.
" Please describe a time when you overcame a personal setback. (500 words or fewer, limited to one page)"
On September 25, 2011, my United States Army Special Forces team (Green Beret) and partner force, the elite Afghan Commandos, battled Taliban fighters in the mountains of northwest Afghanistan. In the 10th hour of the engagement I felt a piercing pain in my stomach, hip, and leg; I had suffered a gunshot wound to my lower abdomen. I thought I was going to die. Thankfully, I lived, but it marked the beginning of a long and painful journey. I sustained a fractured hip, lost 20% of my colon, and suffered a damaged femoral nerve, resulting in permanent disability.
Initially, I was completely dependent on others. I had gone from a strapping Green Beret to a man who could not dress or bathe himself. Before I was wounded, I was an avid runner and outdoorsman. I was crushed when doctors told me that I would never run again and would only be able to walk with the assistance of a leg brace. However, I decided to not feel sorry for myself. I was lucky to be alive and would not waste my second chance at life. I vowed to beat the odds and run again.
After lengthy hospital stays in Afghanistan, Germany and the U.S., I was released to begin physical therapy. I spent up to six hours a day at the 1st Special
Forces Group rehabilitation facility. I never missed a day, no matter how much pain I was in. After four months of dedicated physical therapy, I experienced another setback; my femoral nerve was not healing. I elected to undergo an experimental nerve grafting procedure that required doctors to cut open my abdomen again and harvest a nerve from my left leg.
Once again, I undertook an intense physical therapy regimen. I spent painful sleepless nights on my couch wondering if I would ever return to a normal life. Despite the set back, I stayed positive and my mobility progressed from a wheelchair, to crutches, to a leg brace, to walking without assistance. I no longer had to rely on others; I could once again care for myself. My dedication to physical therapy and positive attitude was noticed by my higher command and I was asked to help mentor other Wounded Warriors.
I have never given up on my goals, and 428 days after being wounded, I was able to run again with the assistance of an anti-gravity treadmill. Special Forces training made me physically and mentally tough, but it was nothing compared to the obstacles that my injuries presented. I do not have bad days any more, because I know that it could be worse. I take advantage of every day, noticing the smaller things in life, realizing how lucky I am to still be alive. With six surgeries, 40 inches of scars, and 15 months of rehabilitation behind me, I am ready to accept new challenges.
Initially I was waitlisted at MIT Sloan and fought my way off the wait list.  I was denied the first time I applied to the Harvard Kennedy School, however, I was accepted when I re-applied.  I apply perseverance to every aspect of my life.  Never give up, never settle.
Learn more at:
stage.woundedbywar.com
Facebook: Wounded by War
Twitter: @woundedbywar
After graduating from Union College (BA), Kevin R. Flike served as a Special Forces Engineer assigned to the 1st Special Forces Group and deployed to the Philippines, Thailand and twice to Afghanistan. On September 25, 2011 during his second deployment to Afghanistan, he was shot in the lower abdomen and was medically retired due to his injuries. In the spring of 2016, Kevin completed dual masters degrees from the MIT Sloan School of Management (MBA) and the Harvard Kennedy School of Government (MPA). Kevin is currently employed within the financial industry in Boston, MA.