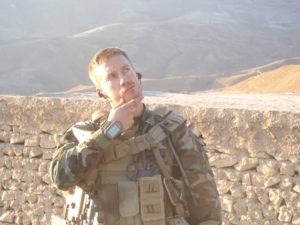 My Last Conversation With Ben: Remembering a Fallen Teammate
By: Kevin R. Flike
(This article has been published with the permission of Ben's widow Traci)
It was a cold, wet and dreary morning in December when I pulled up to the 1st Special Forces Group rehabilitation center. I sat in the parking lot in silence and took a moment to mentally pump myself up. My body ached and I just wanted to get the next four hours of torture over. A few months prior I had been shot in the lower abdomen during combat operations in Afghanistan. After being medically evacuated back to the US, my day-to-day life consisted of painkillers, physical therapy and waiting for my teammates safe return. After almost ten months of combat operations the team would be home in a month's time.
I was just about to head into the building when my cell phone rang. I had no interest in talking to anyone; however, when I noticed a strange number on the caller ID I quickly realized the call was probably from Afghanistan. In the past couple of months friends and teammates called multiple times from Afghanistan to see how I was doing and offer me encouragement. Their calls helped lift my spirits and motivate me during this dark period of my life. When I picked up the phone and heard Ben's voice, I was ecstatic and glad I answered the phone.
Ben was one of the team's medics, and besides being an incredible Green Beret, he was also a great teammate and the resident goof ball. Naturally, Ben started the conversation with one of his patented corny jokes. Within the first few seconds of our conversation the day seemed brighter, my aches and pains went away and a rare smile adorned my face. Ben had the innate ability to lift your spirits and he was clearly working his magic on me. After a couple of minutes of witty banter and jokes, the tone turned serious; this was the first time we had talked since the day I was wounded.
For the next 45 minutes Ben and I relived that life-altering day. The mission started out as a routine valley clearing operation and turned into a 10-hour firefight as the team pushed through the valley. During the day I was in the valley with the majority of my team and the Commandoes while Ben and the Commando snipers were on a crest overlooking the valley. Ben was the best shot on the team, so he spent a lot of time with the Commando snipers providing the team with life saving support from over watch positions.
Throughout the engagement, Ben and I never had face-to-face contact; however, we constantly talked on the radio giving each other frequent updates.  While our team fought through multiple attacks in the valley, Ben was engaged in a sniper battle with fighters that he said were "trained". Given our proximity to Iran, neither of us was surprised at the high skill level of our opponent. Ben said that every time they lifted their heads they could hear the crack of bullets overhead. Whenever they moved positions, their element was greeted with a hail of gunfire. Learning about the battle from Ben's vantage point was enlightening and cathartic.
As we walked through the day's events in chronological order we finally got to the point in the engagement when I was wounded. Ben's voice took on a tone of compassion and worry. He was in disbelief when the call came over the radio that I had just been shot. After hearing the call he started praying. He said he spent the rest of the day performing his role as a Green Beret and also praying to God to spare my life. Ben said, "I was so worried we were going to lose you," and went on tell me how guilty he felt that he could not do more from his over watch position.  I thought he was going to cry.
After a momentary pause, Ben said, "you know we got him." I was confused and asked him what he meant. He said, "I am pretty sure, 99.9% certain that we killed the guy that shot you." What he meant was that he killed the guy. Ben was great at his job and remarkably humble. Whenever Ben was successful, he used the word we instead of I to deflect praise from himself to the team. Ben also never bragged or gloated about killing enemy fighters. He viewed it as a necessary evil in an unfortunate circumstance and certainly did not want to celebrate it. A few minutes later Ben closed out the conversation with a prayer. The call energized me for the day ahead and made me look forward to seeing Ben and the rest of the team soon.
A couple weeks later on January 9th I was in the hospital waiting to be seen for one of my many follow-up doctors appointments when my wife called me. She told me that Ben was hurt. I started peppering her with questions, but that was all she knew. After the appointment I got another call from the 1st Special Forces Group telling me to come into work ASAP, and that's when I found out how dire the situation was.
Ben always fought courageously on the battlefield, but in the next week he put up the biggest fight of his life. Ben sustained multiple gunshot wounds that did horrendous damage to his internal organs. Doctors performed multiple blood transfusions and even amputated his legs to try and save his life. Ben stubbornly clung to life and was revived numerous times. However, after a week of fighting, Ben died of his wounds in Landstuhl Regional Medical Center in Germany. Tomorrow (January 15, 2016) marks four years since Ben was taken from us, and while it has gotten better, it is still tough.
Ben's death helped me understand that I had a second chance at life and put my situation into perspective. His memory pushed me through my recovery and gave me the courage to apply to grad school. I wanted to live every second of my life to 100% of my ability, otherwise I felt like I was letting Ben and his memory down.  However, after awhile I could not help but feel guilty for living and wondered why he died and I survived. Sometimes I had to take his memorial bracelet off because just seeing his name was too much to bear. I constantly put myself under intense pressure to succeed at everything because if I did not, then I would somehow be distorting Ben and his memory. I kept pushing myself harder and harder because I was afraid I would let him down.
It took me a while to realize that this attitude was not befitting Ben's memory because this was not what he stood for. Ben was a man of faith, a family man and the best friend you could ask for. I now understand that putting these ideals first in my life is the way to honor Ben, not by putting an un-bearable amount of stress on myself to achieve. After realizing this I no longer feel guilty for having survived, but rather lucky to have known such a great man that set forth an example for me to live by. Ben, thank you for who you are and what you have done for me and so many others. I miss you. RIP DOL.
Learn more at:
stage.woundedbywar.com
Facebook: Wounded by War
Twitter: @woundedbywar
After graduating from Union College (BA), Kevin R. Flike served as a Special Forces Engineer assigned to the 1st Special Forces Group and deployed to the Philippines, Thailand and twice to Afghanistan. On September 25, 2011 during his second deployment to Afghanistan, he was shot in the lower abdomen and was medically retired due to his injuries. In the spring of 2016, Kevin completed dual masters degrees from the MIT Sloan School of Management (MBA) and the Harvard Kennedy School of Government (MPA). Kevin is currently employed within the financial industry in Boston, MA.