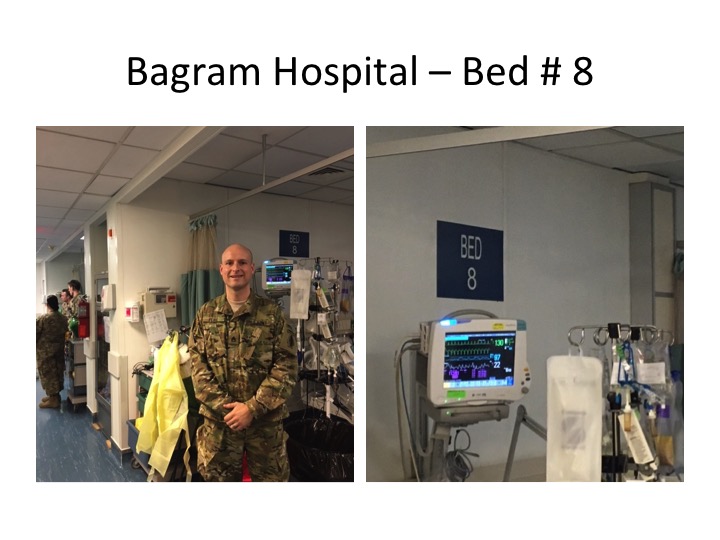 (Six years ago, I occupied Bed # 8 in Bagram Hospital)
This is the fourth in a series about my trip to Afghanistan with Operation Proper Exit (Feherty's Troops First Foundation). Click these links to read #1 #2 and #3
For the next three days, our schedules were packed from the moment we woke up until we went to bed. Our first stop was the helicopter medical evacuation team, better known as DUSTOFF (Dedicated Unhesitating Service To Our Fighting Forces). If it were not for a fearless and relentless DUSTOFF crew in NW Afghanistan six years ago, I would not be here right now. These crews fly anywhere and anytime. I have never had the opportunity to thank those brave soldiers who risked their lives to save me, so I was happy to be able to thank this crew for their selfless service. While it was not the same crew, it felt great to finally thank members of DUSTOFF. Next up was my most anticipated moment of the trip, a visit to Bagram hospital.
After I was wounded, I was placed in a medically induced coma at the field hospital in NW Afghanistan. I traveled from the field hospital to Heart Airfield, to Bagram Airfield and then Landstuhl, Germany, where I finally woke up. It is un-settling to have a four-day period of my life that I have no recollection of. The trip to the hospital would begin to fill in the gaps.
The entrance to the hospital had a large 10 X 20 foot American flag hanging from the ceiling that each patient passed under as they were admitted. The flag was there to remind wounded soldiers that they were home and that the hospital staff would move heaven and earth to help them. While I had previously passed under this flag, this was the first time I saw it.
After a brief greeting from the hospital head and his staff, we traced the path that a wounded soldier would take as they were admitted. Most of us had to fight back tears while the staff showed us around and explained the different phases of being admitted. I was astounded that I had been a patient here almost six years ago.
The staff assigned us guides to continue the tour and they did their best to make sure our guides had a connection to us. My guide, Major Michael Zerbee, had been in Landstuhl Germany six years ago and helped unload me from the medical plane on my arrival and load me back up when I left for the US. Brendan Rumbaugh's guide had been in the operating room five years ago when he lost his legs to a landmine. I could not believe that we were meeting these people.
I almost dropped to my knees when Major Zerbee showed me the hospital bed (Bed #8) that I had occupied six years ago. There was an Afghan police officer occupying the bed. He had been wounded in Badakshan, Province an area in NE Afghanistan that I had spent a lot of time. Talking to him through an interpreter brought me back to my time with the Commandoes.
Next I was shown all of my medical records. A surgeon and I sat down in front of a computer screen and went through my x-rays and CT scan's. The surgeon filled me in on what happened during my transport around AFG and movement to Germany. With so many memories and emotions in such a short period of time, it was almost impossible for me to process everything and it was not even lunchtime yet.
I have long said that military doctors and nurses are one of the most under-appreciated elements of the Global War On Terror. On a daily basis, these men and women see the absolute horrors of war. They encounter service members with gunshot wounds, missing limbs and burns from head to toe. Not everyone they try to fix can be saved, a burden that weighs heavily on these men and women. Most of the time, the ones they do fix are whisked away to a rehabilitation centers in the US, leaving these men and women to always wonder what happened to the service members they saved. When the members of Operation Proper Exit visited the hospital these courageous men and women finally had an opportunity to see the result of their hard work and dedication.